Piezo-electric shockwave therapy, also known as Myofascial Acoustic Compression Therapy (MyACT) is used in the treatment of acute and chronic pain in muscles, tendons and joints. MyACT uses acoustic waves to target tissues at varying depths by compressing and manipulating the tissue, resulting in a focused, precise deep tissue massage, resulting in improved circulation and pain relief.
Acoustic pressure waves are characterized by a pressure surge with an extremely short rise time, which is then followed by an exponential drop in pressure and a brief phase of negative pressure. The pressure waves used in MyACT applications focus or develop in the target tissue at the point where the pain originates.


HOW DOES PIEZOWAVE WORK?
The PiezoWave2 delivers mechanical energy in the form of sound waves to target tissue, activating the body's own stem cells, including tenocytes in tendons, fibroblasts in ligaments and skin, osteocytes in bone, chondrocytes in articular cartilage, and endothelial cells in blood vessels, which are all highly responsive to mechanical energy. The PiezoWave2 then localizes trigger points, delivering highly focused acoustic pulses that penetrate precisely to the desired depth. Penetration depths of between 0.5mm and 3 cm are possible, depending on the therapy source. This facilitates cellular repair by increasing blood flow and reducing pain.
Extracorporeal shock waves have been used successfully in the treatment of chronic pain since the early '90s in Europe. Further, MyACT/PiezoWave2 has been used in Germany for the past 23 years. New to the United States only 4 years ago, the PiezoWave2 is now an FDA Registered Class 1 Modality.
WHAT ARE THE PHYSIOLOGICAL EFFECTS?
Shockwave therapy is used to treat both acute and chronic pain in the muscles and joints. There are a wide range of conditions and injuries that shockwave therapy can treat, including but not limited to:

Arthritis
Tennis elbow/ golfers elbow
Knee pain
Shoulder pain
Rotator cuff injuries
Tendinitis
Wrist pain
Plantar fasciitis
Muscle sprains/ strains
Trigger points
and much more…
Treatment is safe and effective, and you can immediately return to your daily activities with no downtime, no pain, and no discomfort. Sessions usually only take about 15 minutes.
WHAT ARE SOME OF THE BENEFITS?
This therapy can be used without the use of X-rays or drugs; although the diagnostic process and or previous treatments may have already included these. It is thought to stimulate the body's own healing ability. In many instances there can be an immediate reduction of pain as well as improved mobility and improved function. It is non-invasive and there is no need for anesthesia. There are minor secondary effects following treatment, generally some soreness that will dissipate in a short amount of time.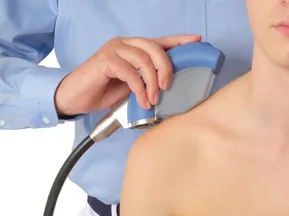 How Long Does Each Treatment Take?
Each session of treatment will take approximately 15-20 minutes. During this time 2000 to 3000 pulse waves are delivered into the area being treated. Normally, 1-2 treatments per week are performed. A total of 4-6 treatments may be necessary before lasting improvements are achieved. Witch acute pain, a single session is often successful.
WHAT IS THE SUCCESS RATE OF SHOCKWAVE TREATMENT?
The worldwide reported rate of clinical success with Shockwave therapy is between 77%-80%. Our patients have reported successful results in line with these same parameters. For those who do not respond favorably to the treatment, other modes of therapy and treatment should be considered and proper referrals will be made to the appropriate specialists.
DOES THE TREATMENT HURT?
Depending upon the level of pain the patient is already experiencing in the area, there may be some discomfort during each treatment. However, most patients are able to tolerate the treatments very well since it only lasts for about 5 minutes. Also, the intensity of the treatment can be adjusted to allow for some analgesic effect in the beginning of each session.
WILL THERE BE PAIN AFTER THE TREATMENT?
Most patients will experience immediate relief of pain following the treatment. However, within 2-4 hours they may experience soreness in the area. The soreness has been reported as being very tolerable and may last a few hours to several days. If you should experience this soreness, DO NOT use ice on the area. Since one of the desired effects of Shockwave treatments is an "inflammatory response"; use of anti-inflammatory medications (such as Ibuprofen, Motrin, Aleve, Advil, etc.) is not recommended. Most patients have reported very good results with Tylenol. You may choose to take medication as you see fit or based upon your Medical physicians recommendation and guidance. The soreness is typically gone within 4-24 hours without any form of intervention.
WHAT ABOUT "PHYSICAL ACTIVITY" vs. "REST" FOLLOWING THE TREATMENT?
It is recommended that you refrain from physical activity, especially the ones that would involve the treated region for 48 hours following each treatment.
ARE THERE ANY PRECAUTIONS OR CONTRAINDICATIONS TO SHOCKWAVE THERAPY?
YES. General contraindications and/or precautions include:
Cortisone injections within one month prior to the start of Shockwave treatment
Blood thinning medications such as Coumadin or Heparin
Heart or circulatory problems
Cancer in or around the treatment area
Pregnancy
Diabetes
Nerve or blood supply being too close to the site of treatment
DOES INSURANCE COVER THE TREATMENTS?
This is NOT an "insurance-covered" service and all treatment sessions must be paid for by the patient